OneLogin Plan for PowerSchool Single Sign-On
Synchronize user information from PowerSchool SIS out to corporate directories for complete, real-time user lifecycle management:
Deliver a seamless onboarding and offboarding experience for students, faculty, and staff
Automatically synchronize student information between PowerSchool SIS and directories like AD and LDAP
Add a second factor of authentication and SSO for security and compliance
Create, assign, and enforce security policies to the right users at the right time
OneLogin's purpose-built, cloud-based integration enables PowerSchool SIS to be the system of record for users in your cloud infrastructure. When users are created, updated or deleted in PowerSchool SIS, changes are automatically imported into OneLogin, which in turn pushes the changes to AD and various cloud applications such as Box, Google Apps, NetSuite, Salesforce, and Webex.
PowerSchool SIS is is a leading student information system software solution for educational institutions. Power your school operations with innovative, easy-to-use technology that plays a central role in K-12 education.
Additionally, end-users can enjoy OneLogin single sign-on (SSO) to all their educational applications through a custom branded web portal. School IT admins can easily manage access, app authentication, and data synchronization from OneLogin's unified admin dashboard optimized for Education.
"We're thrilled to partner with OneLogin to bring the first Identity Management Automation integration to our customers, providing needed automation for backend systems to empower better student engagement, while maintaining compliance and security" - Alan Taylor, SVP of corporate development at PowerSchool Group, LLC.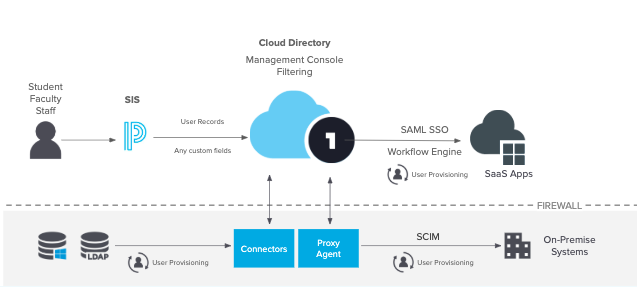 Benefits of OneLogin and PowerSchool SIS Integration:
SYNCHRONIZE USER INFORMATION BETWEEN POWERSCHOOL AND ACTIVE DIRECTORY(AD) OR LDAP
OneLogin's AD connector provides self-service account recovery and user password policy enforcement. Information syncs in real-time without batch updates. Bi-directional attribute rules let you sync AD changes to OneLogin and vice versa. In high availability mode, multiple connectors exist per server, creating effective failover and peace of mind. Our easy installation wizard creates the connection in minutes with no server restarts or firewall changes.
AUTOMATED USER LIFECYCLE MANAGEMENT
Streamline the creation, modification and deletion of user accounts from PowerSchool SIS to directories and all cloud apps to ensure that Faculty and Staff, Students, and Parents have the right level of access to critical apps in real-time. An instant kill switch eliminates lingering access to school applications after departures.
MULTI-FACTOR AUTHENTICATION (MFA)
OneLogin's strong, risk-based MFA provides an additional layer of security for data sensitive applications, such as Grading, Payroll or HR applications used by Faculty and Staff. Set up custom policies for specific applications or specific users or groups. Use OneLogin Protect or a pre-integrated third-party solutions like Google Authenticator, Yubico, Duo Security, RSA SecurID, and more. Add adaptive authentication to streamline login through machine-learning that builds user profiles to identify high-risk login attempts.
SINGLE SIGN-ON (SSO)
Simplify and protect user access to all their educational tools with a single, secure authentication path for users. OneLogin uses SAML 2.0, Oauth, or other protocols to log students securely into their applications, eliminating user-managed passwords and the risk of phishing.
POWERSCHOOL QUICK START:
1. Sign up for a OneLogin account
2. Connect OneLogin to your corporate directory
3. Define a PowerSchool role for your organization
4. Add MFA for an added layer of security
5. Add PowerSchool as a corporate application for your organization
LEARN MORE
- OneLogin and PowerSchool Announce Integration
- Learn more solution for education