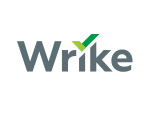 OneLogin Plan for Wrike Single Sign-On
OneLogin makes it easy to secure and control access to Wrike's award-winning collaboration and project management solution. With OneLogin's best-in-class Active Directory Connector and administrator portal, IT can quickly create and enforce security policies, while Wrike's end-users will enjoy OneLogin single sign-on (SSO) from multiple devices and the ease of one-click multi-factor authentication. Users can be automatically provisioned and deprovisioned from OneLogin to Wrike. OneLogin takes just minutes to set up and makes end user management more efficient from day one.
Wrike is a powerful cloud software tool for project management, planning, and team collaboration, used by over 15,000 organizations, including small, mid-size and Fortune 500 enterprise companies. Wrike was included as one of the fastest growing companies in North America on Deloitte's Technology Fast 500™ List for the third consecutive year.
Sign up for a OneLogin account for Wrike
OneLogin integrates seamlessly with Wrike and provides the following features:
SINGLE SIGN-ON
OneLogin's SSO functionality signs users into Wrike via SAML 2.0, eliminating user-managed passwords and the risk of phishing.
REAL-TIME ACTIVE DIRECTORY & LDAP INTEGRATION
OneLogin's zero-config Active Directory or LDAP Connector can be installed in minutes with no server restarts or firewall changes. OneLogin fully supports users synced from various company directories, or can be used as a standalone cloud directory.
MULTI-FACTOR AUTHENTICATION
Add an extra layer of protection with OneLogin's free OTP smartphone app or leverage any of the pre-integrated third-party solutions from RSA, Google Authenticator, Duo Security, Symantec or Yubico.
AUTOMATED USER PROVISIONING & DEPROVISIONING
Automatically create, update, and deprovision users in Wrike with every change to AD or over OneLogin's virtual LDAP service. Easily import role/entitlement definitions from IT directory to set user access privileges.