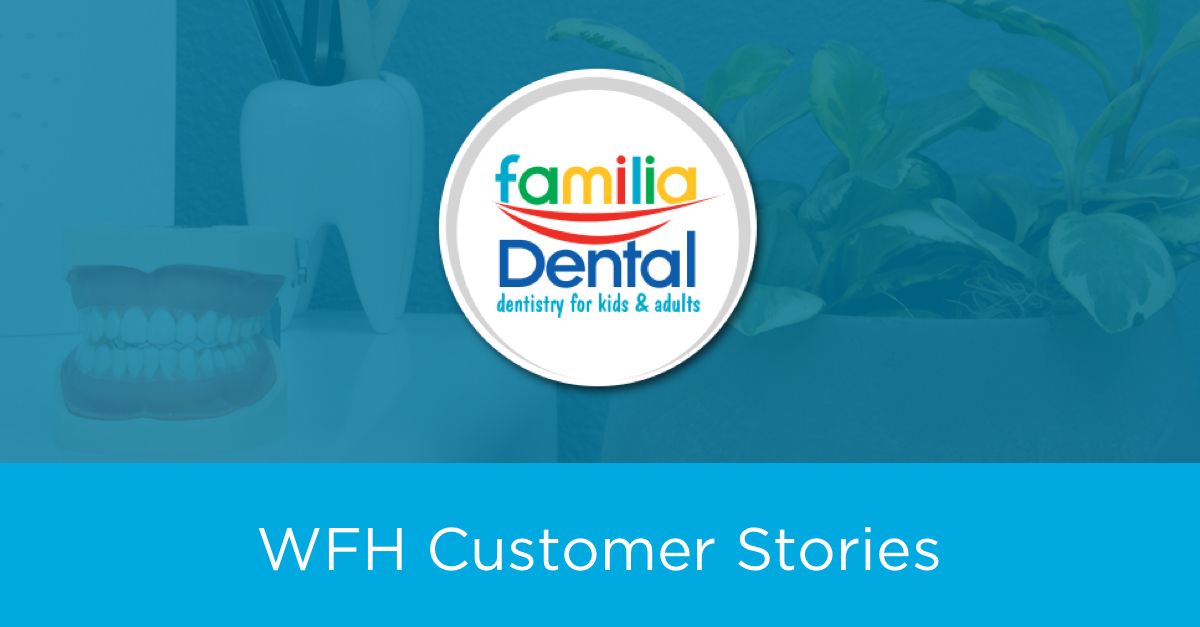 Like most organizations, Familia Dental – one of the fastest growing dental groups in the U.S – was caught off guard when the coronavirus hit. The Center for Disease Control (CDC) mandated that all dental practices close their offices, except to provide emergency care. In response, Familia Dental had to quickly enable remote operations. The company called on the expertise of its partner, ReadyNetworks, to quickly pivot and deploy new technology from OneLogin.
Enabling essential personnel to work from home
With operations spanning multiple states, Familia Dental relies heavily on two categories of essential personnel: its call center agents in Illinois and Texas and its revenue cycle operations staff. As a practice seeing twice as many patients compared to other dentists, the company's call centers schedule twice as many patients and its revenue cycle staff processes twice as many claims.
To work remotely, essential personnel need access to EagleSoft, an off-the-shelf practice management system. They also require access to the company's homegrown on-premise application called One Entry Stop (OES), which Familia Dental developed to aggregate information from its 40-plus locations into a single interface.
Though Familia Dental had developed continuity plans, it never had to previously consider remote session infrastructure. Once the CDC mandate was published, the company needed to enable easy access to its apps while maintaining the security of its data.
Harnessing a complete, turnkey solution
With just two weeks to enable its historically desktop-bound employees to work remotely, Familia Dental turned to its partner, ReadyNetworks, a full-service, global technology solutions firm headquartered in the Chicago area.
ReadyNetworks suggested a well-conceived, fully turnkey solution combining OneLogin's solution for Remote Desktop Gateway (RDG), Single Sign-On (SSO), Multi-Factor Authentication (MFA), OneLogin Access, and Unified Cloud Directory. They created a workflow to integrate into OneLogin's RDG product, making it easier to access all of Familia Dental's legacy infrastructure, while decreasing the overall volume of helpdesk support tickets. In essence, OneLogin made it easier for ReadyNetworks to proactively manage and strengthen Familia Dental's security posture without the expense of additional hardware or infrastructure layers.
Providing easy, secure remote access to critical apps
Within 30 days, Familia Dental enabled its entire organization of 700 users to access multiple on-premise and SaaS applications — including EagleSoft, OES, RingCentral — and on-premise legacy infrastructure. Remote employees log in via OneLogin a single time with SSO and MFA, obviating the need to use a VPN – the previous access method for employees working offsite.
OneLogin enabled Familia Dental to replace its outdated, on-premise OES software, and avoid the need to supply remote workers with laptops. With just a thin client – a computer that calls upon resources stored on a central server instead of a localized hard drive – along with Internet connectivity, users can easily access critical applications and enjoy the same app experience.
Even as the volume of Familia Dental's business increases, it can keep up due to the OneLogin solution proposed by ReadyNetworks. Moreover, Familia Dental can avoid investing in high-end infrastructure to support its applications going forward. Plus, because its infrastructure is more secure, it can better control and minimize device management without sacrificing core security.