We are officially into the summer months with back-to-school here and Labor Day right around the corner. For many of us this summer is one to cherish. We've been able to celebrate the season, in-person, with family and friends and travel for our much needed summer vacations. It feels like we may be on the path back to normalcy.
As we look ahead, we want to help you navigate the "new normal." OneLogin is continually innovating—we introduced Delegated Administration last month and OneLogin Workflows and Universal Connector this month (read on ↓ for a very special offer). We are here to help you meet your goals by enabling your organization to improve security, mitigate risk, and decrease costs.
WHAT'S NEW AT ONELOGIN?
CUSTOMER SPOTLIGHT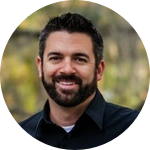 Florida State College at Jacksonville (FSCJ) is a public college that is a part of the Florida College System. FSCJ ranks among the top colleges and universities in Florida and provides affordable, high-quality education that meets the demands of a modern workforce. Due to its diverse programs and more than 400 full-time faculty and nearly 800 adjunct (part-time) faculty, the school attracts international students from 154 countries and serves over 50,000 students each year. Learn how FSCJ enabled a better, more secure application access experience with OneLogin.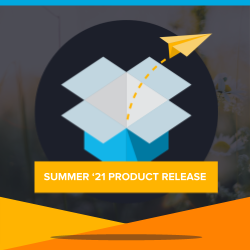 Summer Product Release
Our Summer 2021 Release highlights new features and functionality that provide additional log in options for end users, reduce the risk of account compromise, improve API security across your environment, and much more. These new features and capabilities span three key areas: Security, Administration, and Developer.
Find out more in our latest blog!
New Product Alert!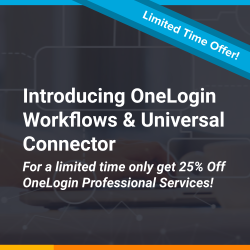 Introducing OneLogin Workflows and Universal Connector! A powerful new way to build complex identity automation at scale. Deploy "low-code" custom logic to automate complex lifecycle management processes and streamline onboarding and offboarding across different systems and applications. Reduce risk, increase operational efficiency, and provide a unified experience across applications.
For a limited time, we are offering customers a 25% discount off of Professional Services for your first OneLogin Workflows or Universal Connector deployment! Secure your special offer today.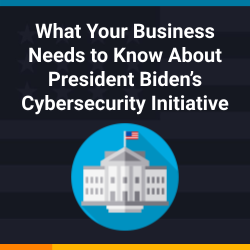 The Scoop on Biden's Executive Order
President Biden's Executive Order, signed on May 12, aims to improve the nation's cybersecurity, protect federal government networks, and enhance information sharing between the U.S. government and the private sector. It encourages private sector companies to follow the government's lead and take quick measures to amplify their security efforts. Learn more today.
OneLogin named a Leader in G2 Summer Report (again!)
We are pleased to announce that we were named a Leader in The Forrester Wave™: IDaaS for Enterprise, Q3 2021.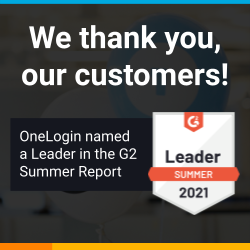 OneLogin was named a leader in the G2 Summer '21 Grid Report—again! Another huge thanks to you, our customers, for submitting positive reviews that help us become, and stay, leaders in both Identity and Access Management (IAM) and Customer Identity and Access Management (CIAM).
Virtual Events Coming Up:
Webinar: August 26th 11 am PT/2 pm ET—Exposing the Truth about State-sponsored Scandals and Global Security Cover-ups with Brian Fogel

Webinar: September 8th 10 am PT/1 pm ET—Security and Productivity Tips for a Hybrid Workforce
Do you love One Login? We'd love to hear from you! Let us know on G2.com.