Even though the end goal of a DDoS attack is always to overwhelm the system, the means to achieve the goal can differ. Three broad types of DDoS attacks are as follows.
1. Application layer attacks
The application layer is where the server generates the response to an incoming client request. For example, if a user enters http://www.xyz.com/learning/ on their browser, an HTTP request is sent to the server, requesting the learning page. The server will fetch all the information related to the page, package it in a response, and send it back to the browser.
This information fetching and packaging happens on the application layer. An application layer attack occurs when a hacker uses different bots/machines to repeatedly request the same resource from the server, eventually overwhelming it.
The most common type of application layer attacks are the HTTP flood attacks in which malicious actors just keep sending various HTTP requests to a server using different IP addresses. One example of this is asking a server to generate PDF documents over and over again. Since the IP address and other identifiers change in every request, the server can't detect that it's being attacked.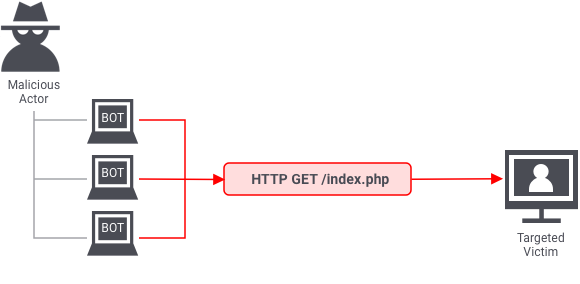 2. Protocol attacks
Protocol attacks look to exhaust resources of a server or those of its networking systems like firewalls, routing engines, or load-balancers. An example of a protocol attack is the SYN flood attack.
Before two computers can initiate a secure communication channel – they must perform a TCP handshake. A TCP handshake is a means for two parties to exchange preliminary information. A SYN packet is typically the first step of the TCP handshake, indicating to the server that the client wants to start a new channel.
In a SYN flood attack, the attacker floods the server with numerous SYN packets, each containing spoofed IP addresses. The server responds to each packet (via SYN-ACKs), requesting the client to complete the handshake. However, the client(s) never respond, and the server keeps waiting. Eventually, it crashes after waiting too long for too many responses.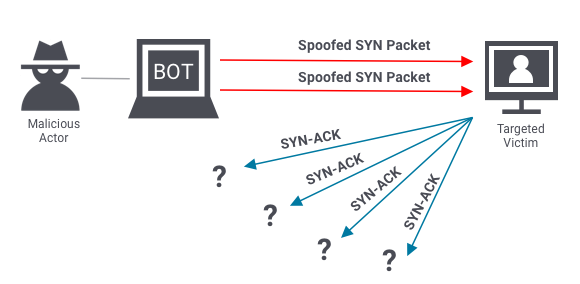 3. Volumetric attacks
Volumetric attacks are conducted by bombarding a server with so much traffic that its bandwidth gets completely exhausted. The most common example of a volumetric attack is the DNS amplification attack.
In such an attack, a malicious actor sends requests to a DNS server, using the spoofed IP address of the target. The DNS server then sends its response to the target server. When done at scale, the delugeof DNS responses can wreak havoc on the target server.